Quality guarantee in the elaboration of our cod
During our process of production, we carry out rigorous quality controls to offer always the best product to our clients. Nowadays ALA BLANCA takes different producing plants of cod as a principal source of supply between Iceland, Faroe Islands and Norway.
In these points and in Europa's principal ports we rely on own highly qualified operators that they fulfill a double mission; control of the mentioned productions and selection of the best fresh fish that they send immediately to our facilities where it comes with the maximum freshness to initiate this way a long process that it finishes with the best cod in his table.
After his receipt and rigorous identification, the fish is processed and stored in refrigerating facilities adapted to every phase of his production, in them it is kept up to his final packaging.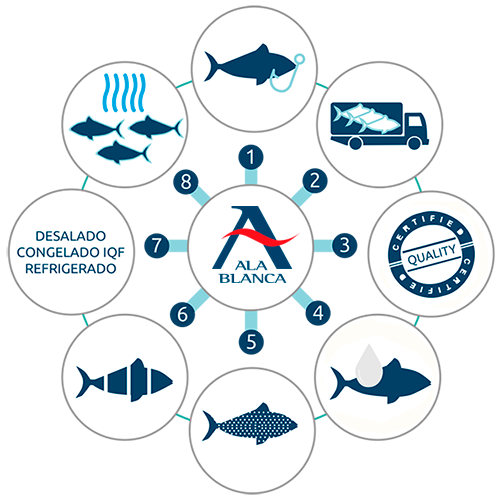 1- Fish raw material | 2- Sending to Plant | 3- Quality control | 4- Cleaning process | 5- Salted process | 6- Cutting and cleaning | 7- Salted, Desalt frozen, Desalt refrigerated | 8- Packagin |